Sidney Sussex College Cambridge University
A below ground waterproofing solution was required for a new kitchen block at Sidney Sussex College, Cambridge University's award-winning kitchen facilities.
The Challenge
Sidney Sussex College began an ambitious development project to replace its kitchens and relocate the main kitchen underground into the Masters Garden, where it would be transformed into a multi-purpose servery and function room. Waterproofing Specialists Cast Contracting Ltd (CCL) were commissioned by Hutton Construction, to install a full external waterproofing system to encapsulate the new kitchen structure. All works needed to comply with BS:8102:2009 – Protection of below ground structures from water from the ground.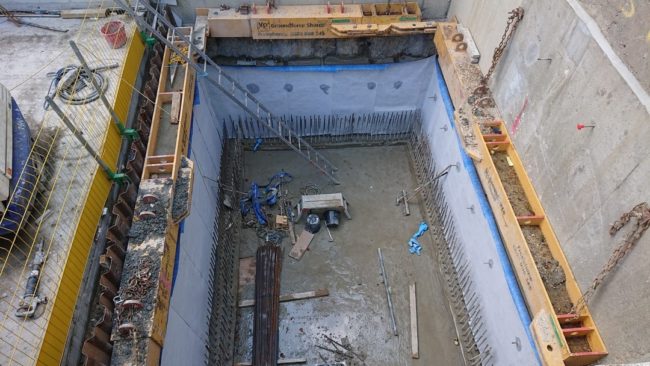 The Solution
CCL installed a full external system to the kitchen and catering facilities within the new basement and roof deck extension. Newton's pre-applied 403 Hydrobond waterproof membrane was installed prior to the installation of the reinforced concrete slabs and basement retaining walls. Large 3m deep pump chamber pits were also waterproofed with pre-applied 403 Hydrobond.
To protect the concrete structure from above, the roof deck was treated with RIW's Flexiseal Pro polymer modified epoxide waterproof coating system. In addition, RIW's Doubledrain sheet was applied to promote the flow of water away from the surface of the structure, and to provide further protection from the finishes placed above.
To complete the comprehensive waterproofing solution, CCL installed a full water management system into the second phase of the project, using Newton's 500 cavity drain membrane range to the newly formed basement structure and pre-existing adjoining basement area.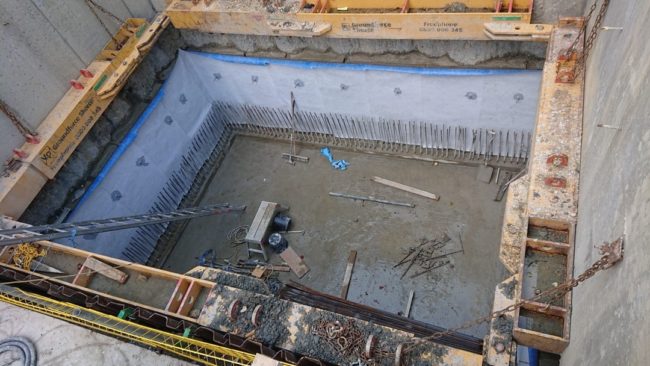 Client Testimonial
"Due to the nature of the project at Sidney Sussex College and the sequencing of the concrete pours, CCL had to carry out the waterproofing works over several visits to the site. They worked closely with us to ensure a continuity of works and to ensure the integrity of the membrane was not compromised during the installation process."

Nick Ingram, Site Manager, Hutton Construction Ltd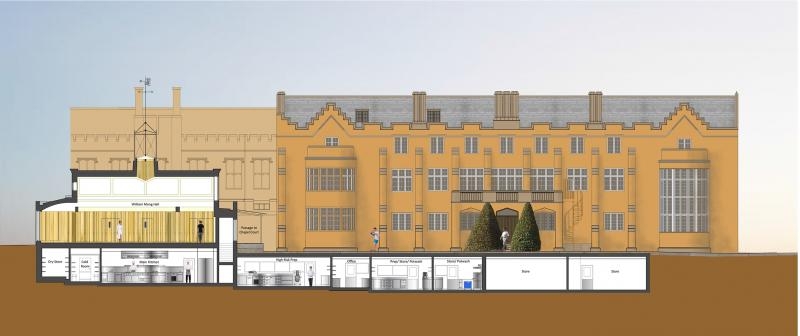 Products Specified
Newton 403 Hydrobond
RIW Flexiseal Pro
RIW Doubledrain
Newton 500 system
Design | Supply | Installation
Cast Contracting Ltd (CCL) is the UK's leading specialist in Design and Installation of all Waterproofing, Tanking and Ground Gas Systems across the United Kingdom. CCL prides itself on offering the highest level of service throughout the Design, Planning, and Installation process.
Structural Waterproofing & Ground Gas Solutions
---
CCL's in-house design team can offer a comprehensive proposal for all scenarios in line with BS:8102 and BS:8485.
CCL Guarantees
---
One of the most comprehensive Guarantees across the industry, taking full project ownership.
Heritage
---
Cast Contracting Limited is one of the longest standing industry specialists. As it is now part of the CCL Group of Companies, Cast Contracting Ltd has the additional stability and support with over sixty employees across the Group.