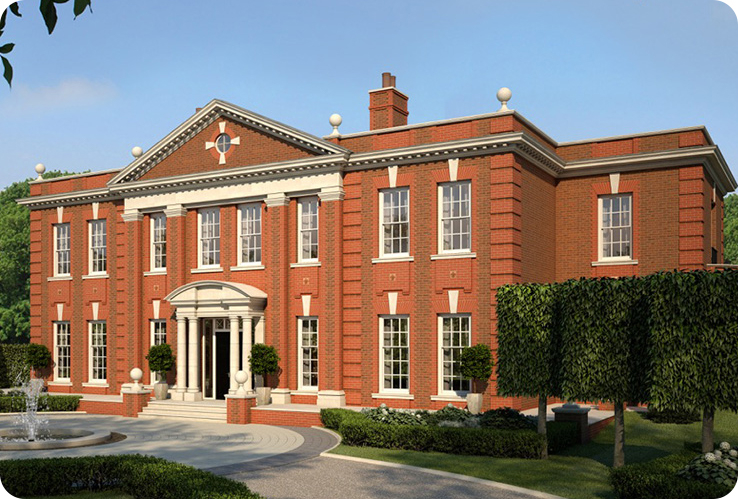 Grosvenor House, St Georges Hill
The stunning new build development of apartments A structural waterproofing solution was required for an impressive new build basement in Weybridge
The Challenge
Grosvenor House is an imposing luxury property built in the private estate of St George's Hill in Weybridge. It features a large 1000m2 basement below the ground, Grosvenor House is an imposing luxury property built in the private estate of St George's Hill in Weybridge. It features a large 1000m2 basement below the ground, comprising garage, swimming pool & sauna, gymnasium, cinema, plant/ storage rooms and staff quarters. Waterproofing Specialists Cast Contracting Ltd (CCL) were employed to design, supply and install a complete waterproofing solution to this new build development, suitable for the concrete wall and slab construction of the basement including podium decks.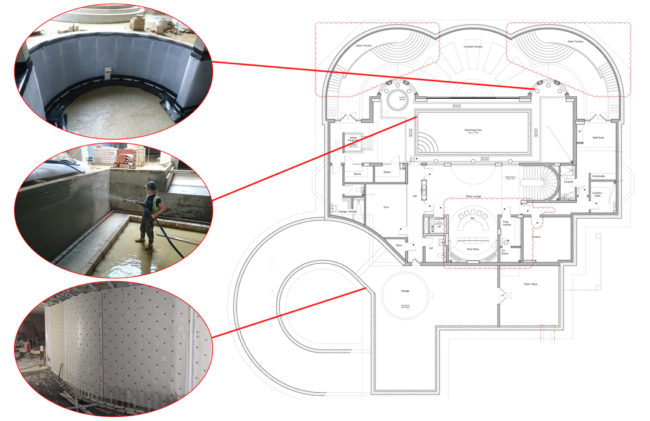 The Solution
CCL recommended the installation of a cementitious crystalline coating to all concrete substrates prior to installing a full Newton Water Management system.
This consisted of John Newton's 8mm cavity drainage membrane to the retaining walls and concrete slabs above a 50-100mm thick extruded polyester insulation.
To ensure the system was fully maintainable and to be fully compliant with BS8102 'protection of below ground structures from water from the ground', CCL installed a preformed drainage channel to the wall/floor junctions with regular inspection ports. These channels drained into four sump collection pits which each housed Newton's twin sump pump systems including battery back-up and high-level water alarm.
Newton's 107F cementitious coating was installed to the lift pits and service trenches, external courtyard area and to the top of the concrete roof decks above the basement areas. The area was then protected with Newton 407 deckdrain system, before the finishes were completed and carried out by others.
Finally, to complete the waterproofing works, Newton 508 mesh cavity drain membrane was installed to the concrete walls of the vehicle ramp, prior to others installing a decorative rendered finish.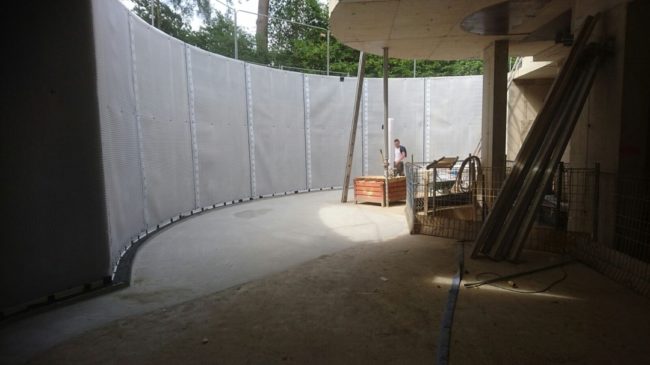 Client Testimonial
"Grosvenor House was a complex domestic build located on a site that was very wet. The subterranean ground conditions were running sand and a potential ground water pressure of 5 tonnes per square metre expected to the RC basement structure. With this in mind we needed to have complete confidence in the company who would be providing the water proofing solutions, which we found in CCL. From their initial proposals all the way through to completion they were professional, helpful, thorough, and cost effective. It is imperative as a luxury house building company that you have a watertight structure below ground. Due to the CCL solutions and implementation, there have been no such issues that have arisen since completion and that is invaluable."

Craig Riley, Contracts Manager, Charybdis Developments Ltd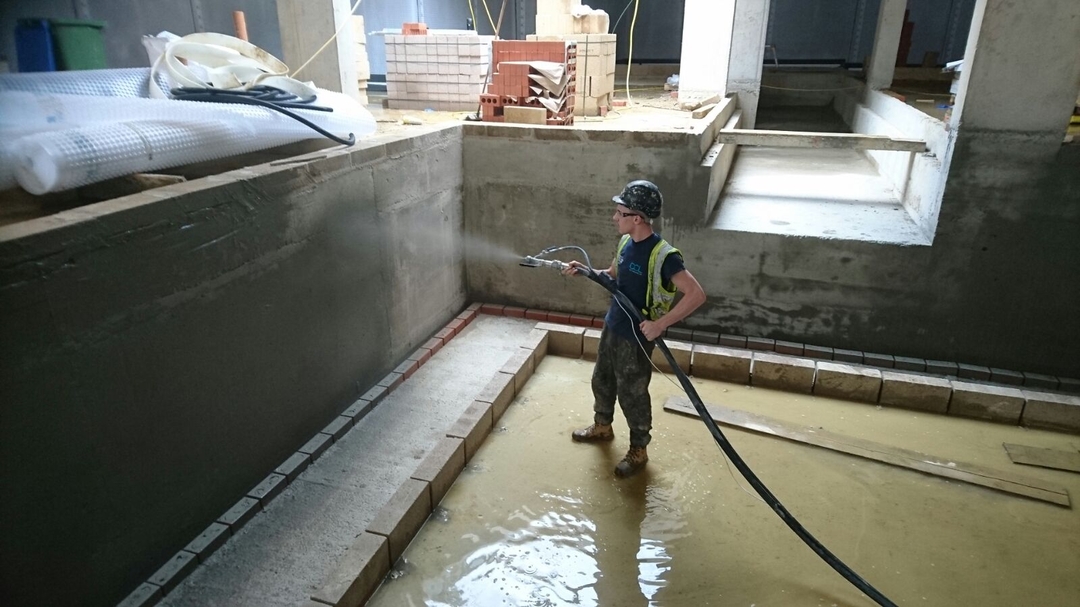 Products Specified
Newton 104 Crystalline coating
Newton 508 / N508 mesh
Newton Basedrain
Kingspan H350R
Newton 107F
Newton 407 Deckdrain
Newton Titan NP400 pumps
Newton Victron Battery backup System
Newton High Level Water Alarm
Design | Supply | Installation
Cast Contracting Ltd (CCL) is the UK's leading specialist in Design and Installation of all Waterproofing, Tanking and Ground Gas Systems across the United Kingdom. CCL prides itself on offering the highest level of service throughout the Design, Planning, and Installation process.
Structural Waterproofing & Ground Gas Solutions
---
CCL's in-house design team can offer a comprehensive proposal for all scenarios in line with BS:8102 and BS:8485.
CCL Guarantees
---
One of the most comprehensive Guarantees across the industry, taking full project ownership.
Heritage
---
Cast Contracting Limited is one of the longest standing industry specialists. As it is now part of the CCL Group of Companies, Cast Contracting Ltd has the additional stability and support with over sixty employees across the Group.